GAVIN WHITE - DIRECTOR OF PHOTOGRAPHY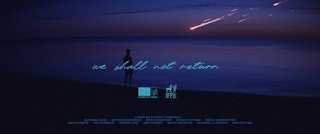 We Shall Not Return
Narrative
We Shall Not Return
Born from a desire to create together in spite of circumstance, 11 international filmmakers collaborated virtually to build a statement of fear, persistence and hope. "We Shall Not Return" makes a case for a better tomorrow, one that works for all of humanity, not just the few.
The film started out as a singular, deeply personal exploration of fear for our collective future, and a reaction to the idea of 'returning to normal'. It became a testament to the will of creativity. A beautiful collaboration between a group of filmmakers across Canada and the UK, executed whilst working remotely, in isolation and observing regional lockdown rules during Covid-19.
We shall not return, we shall only move forwards.
—
Written, Directed & Edited by Stuart Langfield
Cinematographers:
Alfonso Chin
Bryce Zimmerman
Bryn McCashin
Byron Kopman
Devin Karringten
Gavin White
Jan Klompje
Jeremy Cox
Jon Thomas
Mack Calistan
Narration - Michael J Rogers
Man - Brett Houghton
Drowning Man - Nathan Barrett
Woman & Child - Lauren & Ilan Klompje
Couple - Jourdan Tymkow & Tyler Adam
Floating Woman - Georgia Bradner
Colour - Sam Gilling
Score - Luke Atencio & Makeup And Vanity Set
Sound Mix - Julio Esteban Ramirez
Editorial Consultant - Jen Mackie
Steadicam - Scott Nuttal
Gaffer - Perry Miotto
Special Thanks - Kaayla Whachell, Brandon Lee, Dane Armour, Caleb Ford, Audra Coton, Perry Miotto, Jordan Findlay, Yorke Graham, Dallas Sauer, Jen Mackie, Aaron Nathanson, Marc Whitelaw, Brightside Cinema, Raw Camera, Paul Engstrom, Tommy Douglas, Peacemaker Filmworks, Corina Bizim
Narrative